direct HDK-200 mask ear band cutting machine elastic elastic rope automatic rope cutting machine
Price in reward points: 2200
Brand:

Haidike

Product Code:

CN230816839115

Availability:

500
Factory direct HDK-200 mask ear band cutting machine elastic elastic rope automatic rope cutting machine
| | |
| --- | --- |
| Pdoduct name | Mask rope cutting machine |
| Product model | HDK-200 |
| Power supply | 220V 50/60Hz |
| Cutting length(mm) | 0.1-9999.9mm |
| Cutting speed | 30-120pcs/min |
| Feeding width | 1-200mm     |
| Cutting precision | 0.1mm |
| Weight | 41kg |
| Size (L×W×H)  | 540*440*370mm |
| Feeding motor | Stepper motor |
| Cutter motor | AC motor |
| Cutter material | High-speed steel |
Features:
1. The mold aperture and hole distance can be customized according to requirements,
2. Convenient feeding, realizing simultaneous cutting of multiple materials, doubling the efficiency.
2. Using microcomputer control, the length, speed and quantity can be adjusted arbitrarily.
3. The overall structure design is reasonable and durable.
4. The operation is simple, instead of manual labor, one machine can hold 3 to 5 people.
5. A wide range of applications, suitable for all kinds of ropes, belts, threads, silks and other materials can be cut.
6. The use of inlaid front steel blades has higher hardness, more wear resistance and long service life.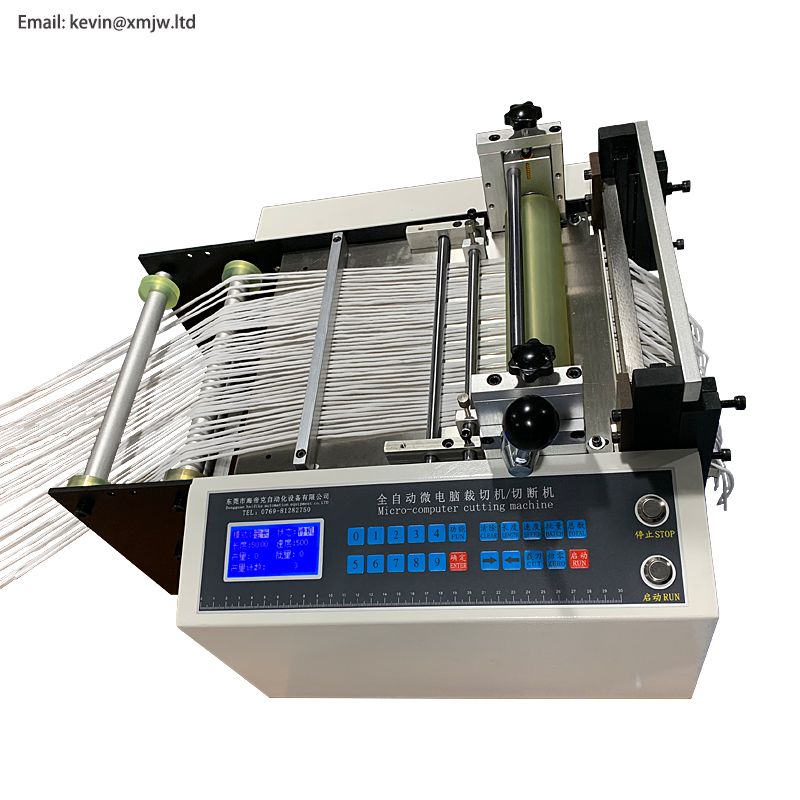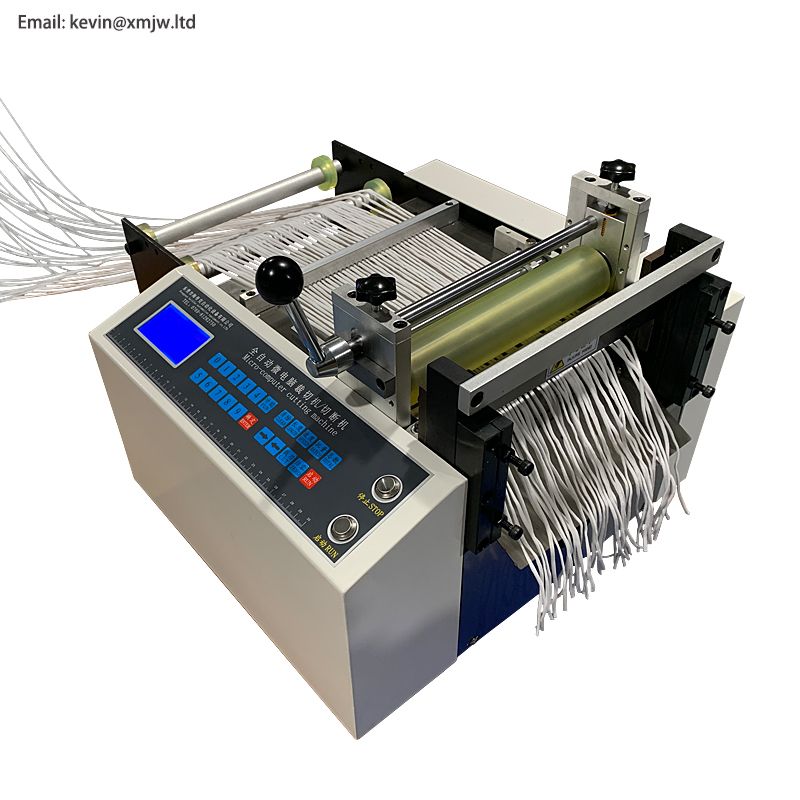 Product principle:

1. Automatic group accumulation and total cumulative count
2. Batch pause and delay time can be set
3. There are various manual operations for debugging
4. Can automatically cut all kinds of strips, sheets, plastic tubes and other materials
5. High-speed feeding, controlled by microcomputer program with an accuracy of 0.1mm
6. High-speed stepping motor accurately controls cutting length and speed
7. Cutting time protection; total setting; sub-setting; adjustable timeout
8. The cutter speed is adjustable, all Chinese LCD display, export or foreign companies can be customized English version
9. The length and speed are arbitrarily adjustable, fully automatic cutting and automatic feeding, completely liberating labor
10.LCD large screen intuitive Chinese display, simple and convenient operation; using special mechanical structure and special tools,With special software control, it solves the problem of uneven cutting in other manufacturers, reaching the level of the slit and the length
11. Fast feeding speed, high cutting force, high cutting efficiency, stable performance, cutting all kinds of hard and thick materials, high cutting precision and straight cut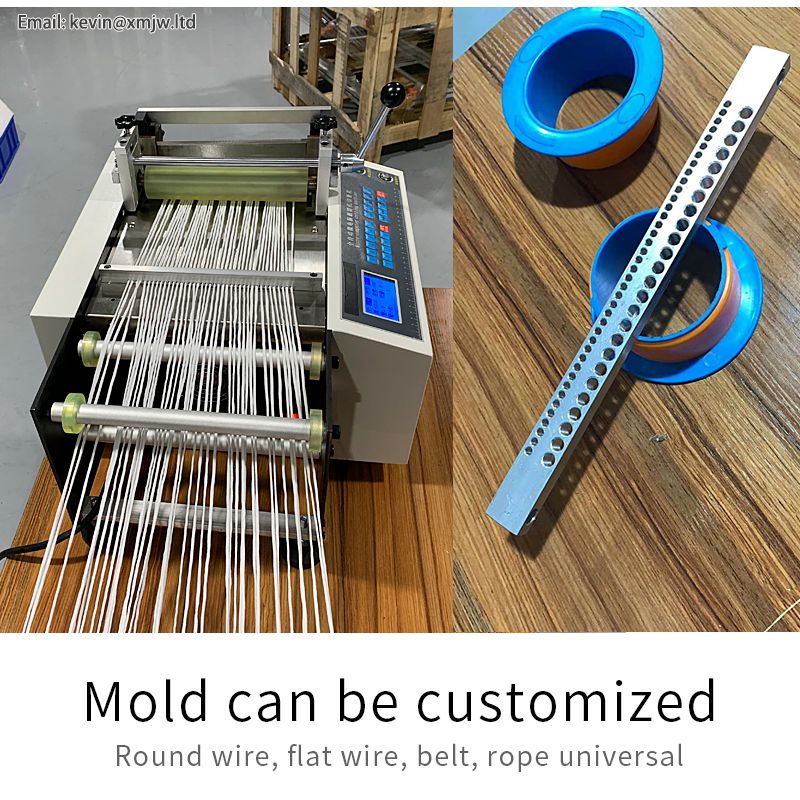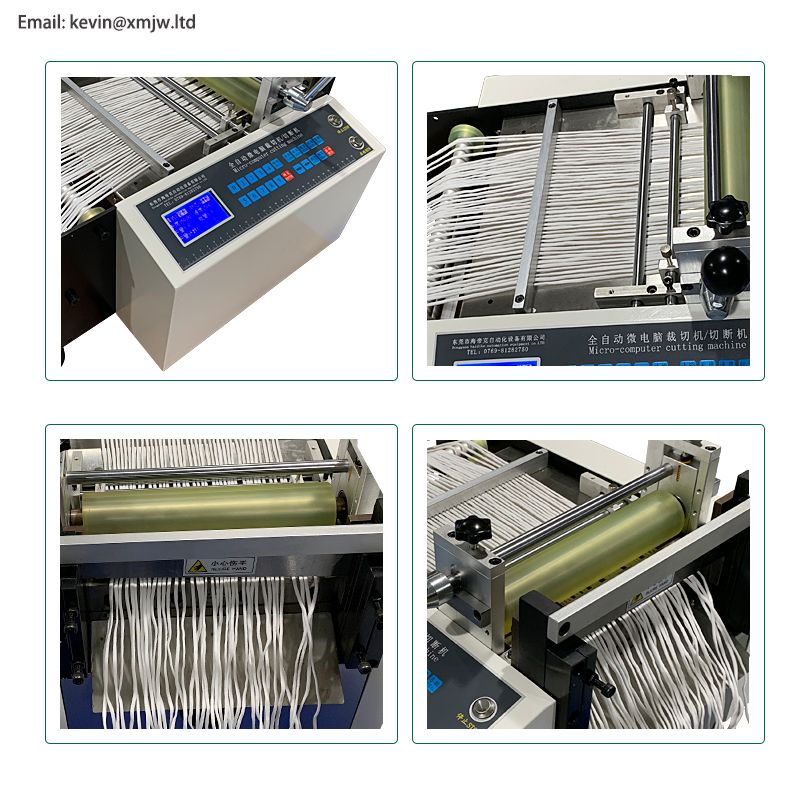 Material application
Suitable for cutting all kinds of masks, ear straps, ear ropes, nose bridge strips, zippers, Velcro, elastic bands, webbing, shoelaces, cloth strips, leather, stickers, PET/PVC/PE/OPP/BOPP/ITO/OCA Film, protective film, electrostatic film, heat shrinkable film, hot melt adhesive film, thermoplastic film, heat transfer film, non-woven fabric, flocking fabric, non-woven fabric, knitted fabric, kraft paper, roll paper, insulating paper, release Roll materials such as paper, wrapping paper, aluminum foil, copper foil, stainless steel foil, copper tape, tin foil, double-sided tape, plastic film, EVA foam, heat shrinkable tube, yellow wax tube, etc.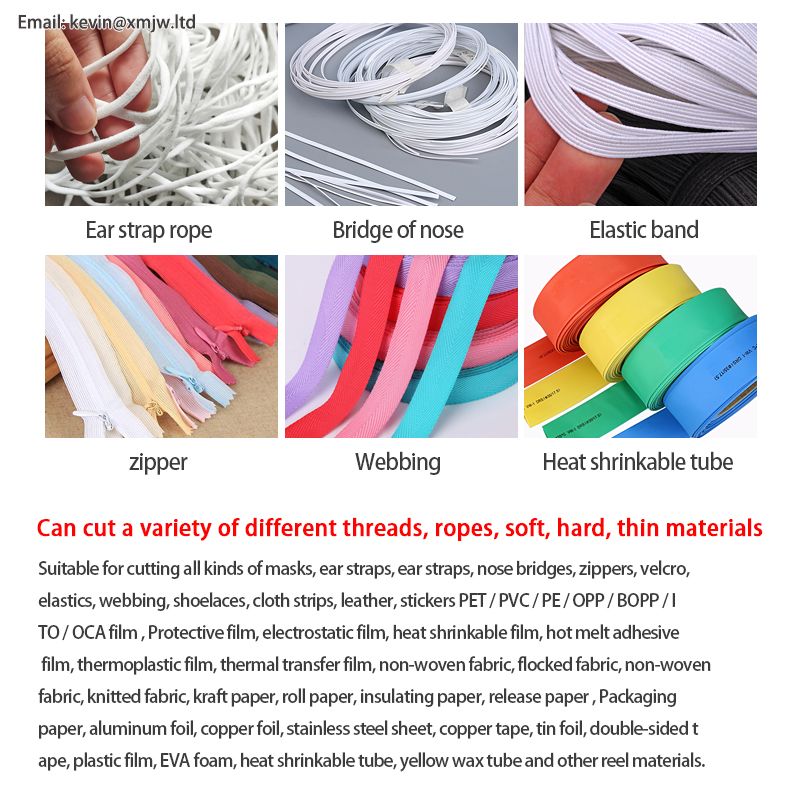 Suitable for cutting various heat shrinkable tubes, PVC sleeves, PVC hoses, glass fiber tubes, yellow wax tubes, PE tubes, silicone tubes, rubber tubes, infusion tubes, corrugated tubes, plastic tubes, nylon tubes, chemical fiber tubes, PU Trachea, water pipe, oil resistant pipe, yellow-green pipe, patterned pipe, marking pipe, double wall pipe, Teflon pipe, latex pipe, braided net pipe, protective sleeve, EPDM pipe, Velcro, hook and loop tape, elastic band, nylon rope , Nylon belt, PP rope, webbing, braided rope, ribbon, ribbon, silk belt, shoulder strap, cotton yarn belt, cotton yarn rope, plastic rope, plastic rope, plastic belt, chemical fiber rope, chemical fiber belt, polypropylene rope, polypropylene tape, warning Belts, bra belts, underwear belts, elastic cords, backpack belts, mother-and-child belts, polyester belts, shoelaces, elastic belts, zippers, luggage belts, nylon fiber belts, leather belts, edging belts, lattice belts, backpack belts, Wax rope, needle through rope, rubber rope, mobile phone rope, bead sail belt, jacquard belt, stretch belt, gift belt, gauze belt, steel wire belt, printing belt, PVC plastic belt, line, small wire, flat wire, enameled wire, Tie ribbon, power cord, wire, rubber pad, Mylar tape, tab tape, woven mesh belt, flexible circuit board, artificial leather belt, acetate cloth tape, metal wire webbing, rayon webbing, PET double-sided tape, foam Cotton double-sided tape, polyimide (KAPTON) tape, copper wire/copper sheet/copper tape/copper foil, aluminum sheet/aluminum tape/aluminum foil, nickel sheet/nickel tape/nickel foil, battery pole piece, diffusion sheet, Plastic sheet, mica sheet, battery separator, silicone strip, sealing strip, rubber ring, latex ring, rubber band, PET nylon yarn, polypropylene monofilament, polyester yarn, grinding gauze, gauze, PET/PVC/PE/OPP /BOPP/ITO/OCA film, protective film, plastic film, electrostatic film, heat shrinkable film, hot melt adhesive film, thermoplastic film, heat transfer film, reflective film, reflective film, diffusion film, bubble film, plastic film, Non-woven fabric, meltblown fabric, flocking fabric, non-woven fabric, knitted fabric, fiber cloth, gauze, laundry sheet, dust-free cloth, conductive cloth, self-adhesive, kraft paper, web paper, insulating paper, release paper, barley Paper, fast paper, wrapping paper, heat transfer paper, filter paper, hot drilling paper, glitter paper, tin foil, aluminum foil, copper foil, stainless steel foil, steel wire mesh, metal sheet, double-sided tape, conductive tape, zipper, Roll materials such as Velcro, elastic band, hook and loop tape, ear strap, nose strip, webbing, cloth strip, pu leather, belt, EVA foam, sponge, pearl cotton, etc.


Chinese and English operating system
Using microcomputer control, length, speed,
quantity, any adjustable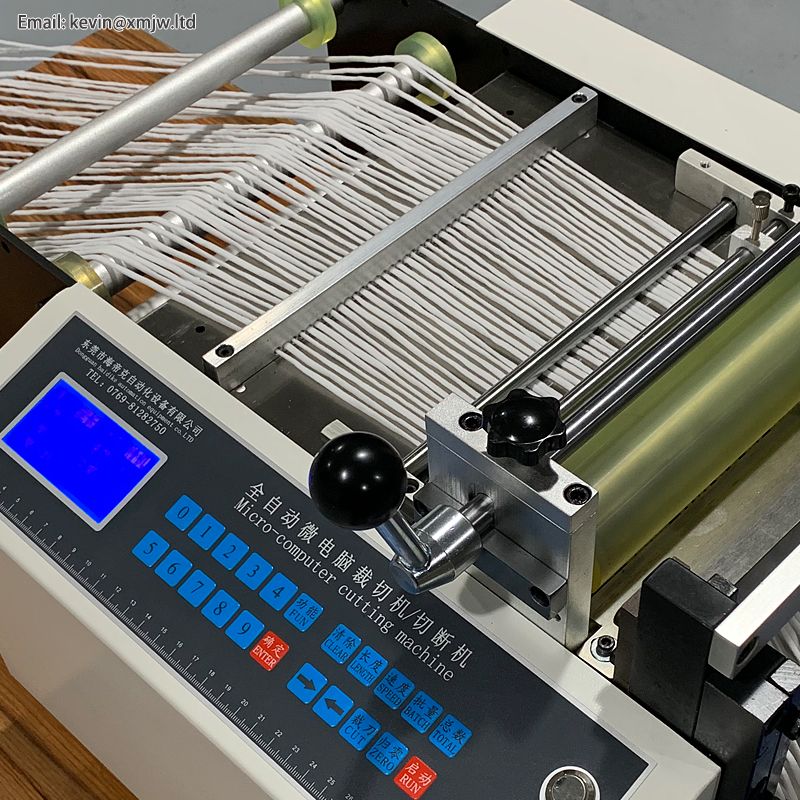 Applicable Industries
Garment Shops;Manufacturing Plant;Food & Beverage Factory;Printing Shops;Energy & Mining;Advertising Company
Application
Medical;APPAREL;Textiles
Automatic Grade
Automatic
Brand Name
Haidike
Condition
New
Core Components
Motherboard
Cutter material
High-speed steel
Cutter motor
AC motor
Cutting length(mm)
0.1-9999.9mm
Cutting precision
0.1mm
Cutting speed
30-120pcs/min
Dimension(L*W*H)
540*440*370mm
Driven Type
Electric
Feeding motor
stepper motor
Heat sealing method
Pneumatic
Heat sealing width
1-200mm
Key Selling Points
High Productivity
Machinery Test Report
Provided
Marketing Type
New Product 2020
Packaging Material
Plastic;Paper;Metal;Wood
Packaging Type
Film;Wooden box
Place of Origin
Guangdong;China
Power supply
220V 50/60Hz
Product name
Mask rope cutting machine
Showroom Location
None
Type
Other
Video outgoing-inspection
Provided
Voltage
220V 50/60Hz
Warranty
1 Year
Warranty of core components
3 years
Weight
41 KG
Tags: direct HDK-200 mask ear band cutting machine, elastic elastic rope automatic rope cutting machine